Posted by DonJuan
Wednesday, 26 May 2010
Last Updated ( Wednesday, 19 June 2013 )
Posted by Greg Tuel
Sunday, 11 August 2013
The essence of Brian Kelly is not his keen intelligence or football acumen. Guys like Steve Spurrier and Urban Meyer have far greater football IQ's. No, what Coach Kelly possesses is far more rare and admirable.

With Coach Kelly, it is all about the perseverance of a man who has worked his way up from a completely unknown Division II graduate assistant to being the celebrated Head Coach of a team playing for The College National Championship. It is the confidence of a man who has learned to succeed by doing what he thinks is the best thing for himself and his football team, regardless of what others think. It is the veneer of hard fought self confidence, undeniable will, and a fierce desire to lead which defines the things he does and illuminates all that he has accomplished.

Going from a Division II head coach to become a successful coach at Notre Dame (and can any of us really deny that he has been successful so far?) is impressive enough; but let us for a moment consider the work he put in just to reach that humble "starting point."

"This isn't about the glory on a Saturday, it is about helping the kids." Brian Kelly, 1991


It was March 22, 1991, and a thin, twenty-nine year old Brian Kelly had earned the job of Head Football Coach at Grand Valley State just four years after coming in as a graduate assistant. Consider how quickly he rose up: his rise at Grand Valley State would be akin to Scott Booker ending up the Head Coach at Notre Dame in 2016 (albeit at a much lower level). Still, as impressive as that rise was, it was just a natural progression from what came before and a ramping up to the meteoric rise to glory that followed.

Consider what Brian Kelly had already accomplished by 1991. Coming out of St. John's Prep high school as a 5'10", 185 pound nose guard and offensive guard who played very little until his final year, Kelly did not exactly have the measurables to be considered a "power player" much less the skills to be recruited as a "big skill player." No one came calling, no college football scholarships were offered, and so Kelly joined the club team (funded by student government) of tiny Assumption College.

Now the race begins. Ready, set, go…

At Assumption, Kelly's work ethic, leadership skills, and careful planning earned him the starting linebacker spot almost immediately, made him a four year letter winner, and ended with the honor of being a two-time captain who led his team in tackles those final seasons.

Graduating from being a player, Kelly was awarded the job of Linebackers' Coach at Assumption, then Defensive Coordinator, while juggling the role as the Head Coach of the softball team. While "moving up" to Division II as a graduate assistant at Grand Valley State in the fall of 1987, Kelly did not waste his summer. Referred by Jay Toporoff, who worked in the Assumption College residential life office, as the "only one for the job," Kelly became the head counselor for Camp Mah-Kee-Nac, a nearly 100% Jewish sports camp in the Berkshires of western Massachusetts. Incidentally, one of the eleven year old campers he mentored that summer was Jedd Fisch, the current Offensive Coordinator of the NFL's Jacksonville Jaguars (http://www.tabletmag.com/jewish-news...hs-jewish-past ).

So now, fresh from camp, we have arrived at Division II Grand Valley State. As a graduate assistant. Coming in from a school that played club football. And yet by that time, as we've seen, Kelly had already made tremendous strides; and he would continue to make incredible progress, moving from Graduate Assistant to Defensive and Recruiting Coordinator two years later, and then Head Football Coach two years after that.

Most of us know the rest of the story, two National Championships at GVSU, setting the Division II all-time scoring record, going 118-35-2, and then moving up to Division I MAC school Central Michigan. But let us stop here a moment, and gaze back at the photo, and more importantly, the picture we have painted of Coach Kelly.

Middling high school athlete, club team captain, tiny club school coach, summer counselor, Division II graduate assistant, Division II assistant coach, Division II head coach… Can you sense how determined and hard working Kelly was for those first 12 years of his life as an adult? Do you still doubt him?

Go Irish. Go Coach Kelly.
Last Updated ( Monday, 12 August 2013 )
Posted by Greg Tuel
Wednesday, 26 December 2012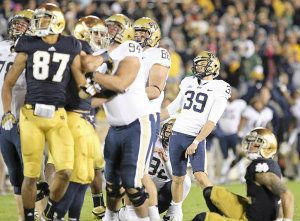 Good fortune was our lot.

God gave us a very early Christmas present, and we have been unwrapping it since September. The computer chose twelve random numbers for our lottery ticket, and we hit on each one. We were never the most handsome guy at the club, but Lady Luck picked us up anyway.

To truly appreciate how fortunate we have been, go back to the beginning, way back to the days when pencil pushers who work in logistics with calendars and rolodexes, without ever knowing it, constructed a schedule custom-made to nurture a red-shirt freshman learning to be a quarterback.

Start with an undersized Navy team struggling to get its option in gear, move on to a Purdue team destined to fire its head coach at season's end, bring on a Michigan State team which no longer strikes fear into the Irish, and finish up with a Michigan team that turns generous to the tune of six turnovers.

Put a bye week in there so the freshman QB can regroup, watch film, learn from his mistakes, and get healthy. Watch him grow bigger and stronger by feeding on a weak Miami defense. Then, and only then, bring on the Stanford Cardinals; and do it just before they solve their own quarterback puzzle.

Just so, the season continued to unfold in a way that gave the young gun, Everett Golson, just enough time to develop his craft and then recover from his wounds, while a veteran Tommy Rees played the old worn-out sheriff who sacrifices himself to keep the bad guys at bay. Now there is a new sheriff in town: a guy who runs and guns well enough to pull off a last minute getaway against Pittsburgh and then a few weeks later put down our formidable arch nemesis USC.

Everett Golson was not the only young gun gifted with enough time and tutoring to develop. While Golson was undergoing his metamorphosis . Just as he was maturing in the offensive backfield, here were a couple young players, one even younger than Everett, growing up in the defensive backfield.

As you can see, the schedule was key: for it served as both the perfect timeline and as a forgiving landscape -- the setting for our fairy tale, if you will. The real magic, the plot of our story, happened against that setting via the play by play within the individual games.

Remember how Tommy Rees came in to run the two minute offense at the end of the Purdue game, tried to call a timeout when there were not any left, and then completed an improbable first down pass to a John Goodman who came off the line late due to all the confusion?

What about the unbelievable pass and catch, Rees to Riddick, on third and eight from the twenty-three yard line in overtime against Stanford? That was immediately followed up by an equally phenomenal TJ Jones catch in the end zone. Speaking of Stanford, how about that fourth down overtime goal line call which ended the game against the Cardinals? However correct you may think that call was, and I for one think it was the right call, certainly you can at least envision it going the other way.

Watch that grass top interception by Manti Te'o against Oklahoma again, and this time see if you can spot the "bang bang" premature contact against the intended receiver by Dan Fox.

Pittsburgh. Need I write more?

What does Lady Luck see in us? Why Notre Dame, and why this season ?

Here is the dirty little secret: the Irish deserved those breaks. The team earned each and every one of them through years of preparation, by virtue of their game time poise, and with their relentless stick-to-itiveness. Our Irish put themselves in a position to take advantage of the good luck that came their way.

As a cross country coach, I would tell my runners to give themselves a chance to break their personal records (PR) by running the first three quarters of the race at a pace that put them in a position to do so. If the course, the weather, and their physical condition on that day allowed it, then they earned another PR. Oftentimes, but not always, they did.

For the Irish, the course they ran, the prevailing winds of good fortune, and the relative lack of injuries at key positions were the final ingredients that allowed a deserving team to achieve the ultimate "personal best": an undefeated regular season in college football.

Now Notre Dame is in position again, this time with a shot at the National Championship. The race is almost over, the familiar landscape is laid out in front of us, our gunslingers are righteous and lightening fast, our foe might be daunting (and our metaphors may be a little mixed) but we have given ourselves a chance, and we have learned how to take advantage of it.

I have fought the good fight, I have finished the race, I have kept the faith. 2 Timothy 4:7

Lady Luck, remember who brought you to this dance.
Last Updated ( Saturday, 29 December 2012 )
<< Start
< Prev
1
2
3
4
5
6
7
8
9
10
Next >
End >>
Results 1 - 13 of 312
What Do You Think?
2014 Recruiting Class