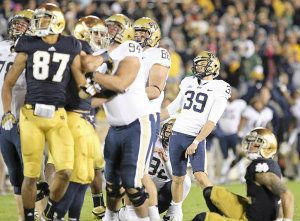 Good fortune was our lot.
God gave us a very early Christmas present, and we have been unwrapping it since September. The computer chose twelve random numbers for our lottery ticket, and we hit on each one. We were never the most handsome guy at the club, but Lady Luck picked us up anyway.
To truly appreciate how fortunate we have been, go back to the beginning, way back to the days when pencil pushers who work in logistics with calendars and rolodexes, without ever knowing it, constructed a schedule custom-made to nurture a red-shirt freshman learning to be a quarterback.
Start with an undersized Navy team struggling to get its option in gear, move on to a Purdue team destined to fire its head coach at season's end, bring on a Michigan State team which no longer strikes fear into the Irish, and finish up with a Michigan team that turns generous to the tune of six turnovers.
Put a bye week in there so the freshman QB can regroup, watch film, learn from his mistakes, and get healthy. Watch him grow bigger and stronger by feeding on a weak Miami defense. Then, and only then, bring on the Stanford Cardinals; and do it just before they solve their own quarterback puzzle.
Just so, the season continued to unfold in a way that gave the young gun, Everett Golson, just enough time to develop his craft and then recover from his wounds, while a veteran Tommy Rees played the old worn-out sheriff who sacrifices himself to keep the bad guys at bay. Now there is a new sheriff in town: a guy who runs and guns well enough to pull off a last minute getaway against Pittsburgh and then a few weeks later put down our formidable arch nemesis USC.
Everett Golson was not the only young gun gifted with enough time and tutoring to develop. While Golson was undergoing his metamorphosis . Just as he was maturing in the offensive backfield, here were a couple young players, one even younger than Everett, growing up in the defensive backfield.
As you can see, the schedule was key: for it served as both the perfect timeline and as a forgiving landscape — the setting for our fairy tale, if you will. The real magic, the plot of our story, happened against that setting via the play by play within the individual games.
Remember how Tommy Rees came in to run the two minute offense at the end of the Purdue game, tried to call a timeout when there were not any left, and then completed an improbable first down pass to a John Goodman who came off the line late due to all the confusion?
What about the unbelievable pass and catch, Rees to Riddick, on third and eight from the twenty-three yard line in overtime against Stanford? That was immediately followed up by an equally phenomenal TJ Jones catch in the end zone. Speaking of Stanford, how about that fourth down overtime goal line call which ended the game against the Cardinals? However correct you may think that call was, and I for one think it was the right call, certainly you can at least envision it going the other way.
Watch that grass top interception by Manti Te'o against Oklahoma again, and this time see if you can spot the "bang bang" premature contact against the intended receiver by Dan Fox.
Pittsburgh. Need I write more?
What does Lady Luck see in us? Why Notre Dame, and why this season ?
Here is the dirty little secret: the Irish deserved those breaks. The team earned each and every one of them through years of preparation, by virtue of their game time poise, and with their relentless stick-to-itiveness. Our Irish put themselves in a position to take advantage of the good luck that came their way.
As a cross country coach, I would tell my runners to give themselves a chance to break their personal records (PR) by running the first three quarters of the race at a pace that put them in a position to do so. If the course, the weather, and their physical condition on that day allowed it, then they earned another PR. Oftentimes, but not always, they did.
For the Irish, the course they ran, the prevailing winds of good fortune, and the relative lack of injuries at key positions were the final ingredients that allowed a deserving team to achieve the ultimate "personal best": an undefeated regular season in college football.
Now Notre Dame is in position again, this time with a shot at the National Championship. The race is almost over, the familiar landscape is laid out in front of us, our gunslingers are righteous and lightening fast, our foe might be daunting (and our metaphors may be a little mixed) but we have given ourselves a chance, and we have learned how to take advantage of it.
I have fought the good fight, I have finished the race, I have kept the faith. 2 Timothy 4:7
Lady Luck, remember who brought you to this dance.