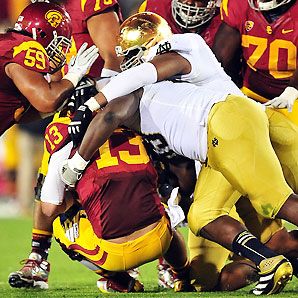 See the counter up above the main forum page: 41 days, 13 hours, 25 minutes, 49, 48, 47… 46 seconds? That is ostensibly the countdown until we play for the National Championship in Miami (if we can talk the Mayans into putting out a 2013 calendar).
It is that indeed. But it is so much more too, because it also represents a countdown to the last time that several key players will take the field to represent Notre Dame: guys you may have heard of like Manti Te'o, Tyler Eifert, Theo Riddick, and Zeke Motta.
It is also a countdown of sorts for this coaching staff. It represents a time period which will be fraught with the peril of others looking at our coaches like bright shiny Christmas ornaments to decorate their own football programs. Last year, at 8-5, we know that Alford entertained an offer from the Green Bay Packers, but what we don't know is how many calls were unanswered and how many other offers rebuffed by our staff. Oh, and do you remember how 2 coaches did answer those calls? Do the names Warinner or Hinton ring a bell?
Martin and Diaco's names were bantied about as possible candidates at other schools. Who wouldn't want a piece of Mike Elston, the coach who molded perhaps the best D line in the country? Do you think Bob Elliott, a man who already served as a Defensive Coordinator, produced the #1 scoring defense in the country (11.8 ppg, 2002 KSU), and who is a position coach for us, is not on a couple short lists? Are there teams out there who wish to use the Notre Dame experiment as a blueprint for their own revival, and would like nothing more than one of the engineers who drafted the original plan to help them out?
The biggest question of all of these is how much access other teams will have to our assistants during this critical period before the National Championship game. Do not delude yourself into thinking that they will be prohibited from talking to our guys. Remember: Coach Kelly set the precedent by leaving Cincinnati just before a BCS game. Now, it was not THE Championship game that Cincinnati was about to play, and Coach Kelly was being offered the Head Coaching (HC) position at the University of Notre Dame. I happen to know that none of our assistants will be offered the HC job at Notre Dame. On the other hand, there are some full time positions open at very high profile schools like Boston College, Auburn, and Purdue. There will be more, but thankfully not at Iowa this season with all its connections to Elliott, Cooks, and Diaco. While the high profile schools are not likely to give the job to someone without HC experience, some of those jobs will be filled by guys moving up from smaller programs, Strong at Louisville would be an example, and those smaller programs will take a chance on an assistant, especially a highly successful one like Diaco or one who has already been a National Championship HC (even if it was Division II) like Martin.
How this all plays out over the next 43 days, 01 hours, 21 minutes, 33, 32, 31… seconds will be very interesting to witness. But do not allow it to become a distraction or a source of anxiety. Having assistants move on to take a promotion is the sign of a quality program and a great Head Coach. Coach Kelly himself is not going anywhere, and it was Kelly who took a chance on Diaco, lured Elliott and Martin to Notre Dame, replaced Warinner with Hiestand, and kept Alford by giving him the reigns to recruiting and the new hybrid RB/slot job. It was Kelly who positioned Elliott as a possible and very worthy successor to Diaco. It is Coach Kelly who has a drink of "a diet soda" with other high profile coaches from the west coast, and I am guessing he has a rolodex full of great coaches from across the country.
So sit back and enjoy the next 41 days, 13 hours, 5 minutes, 23, 22, 21…20 seconds. Things are bound to get interesting, and Coach Kelly will have his hands full dealing with all the consequences of success of the highest order. I am certain he is up to the task, and looking forward to it.